School Mission Statement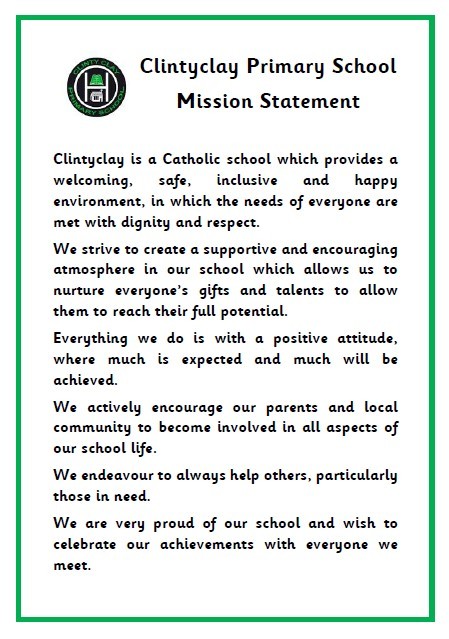 Clintyclay Primary School first opened its doors to welcome children from Clonmore and the surrounding areas in the year 1893.
Over the last 130 years our school has grown and been transformed with new families moving to the area, but what has remained a constant has been the high standard of education and the warm welcome and nurture each child entrusted to our care receives.
We are a Catholic primary school, and for us this means we welcome all children, irrespective of faith, class, gender or ability and strive to meet their individual needs with dignity and respect in a happy, safe and secure learning environment.
Everything we do is with a positive attitude, where much is expected and much will be achieved.
Part of what makes our school so special is the place we have at the heart of our community.
We actively encourage our parents and local community to become involved in all aspects of our school life. We are very proud of our school and wish to celebrate our children's achievements with everyone we meet.
Clintyclay Primary School, 81 Clonmore Rd, Dungannon, Armagh BT71 6HX | Phone:028 8778 4498